Anybody who has participated in any GMO Free NJ events knows that we love to have fun in all of our activities; from film screenings, hands-on workshops, rallies, public meetings to tabling events, if we can't infuse joy and enthusiasm into it . . . well, we just won't do it! One of our all-time favorite things to do is tabling events. I mean, what could be more rewarding than talking to everyone you meet about GMOs? (I'm dead serious–just ask my family). But, the AMAZING variety of people we meet is the big thrill . . . let me tell you about who we met at one recent event. We were sort of mooching off of GMO Free PA's table at the Philly Greenfest when a young woman walked up to the table to tell us about her upcoming art exhibit. Here's the invite: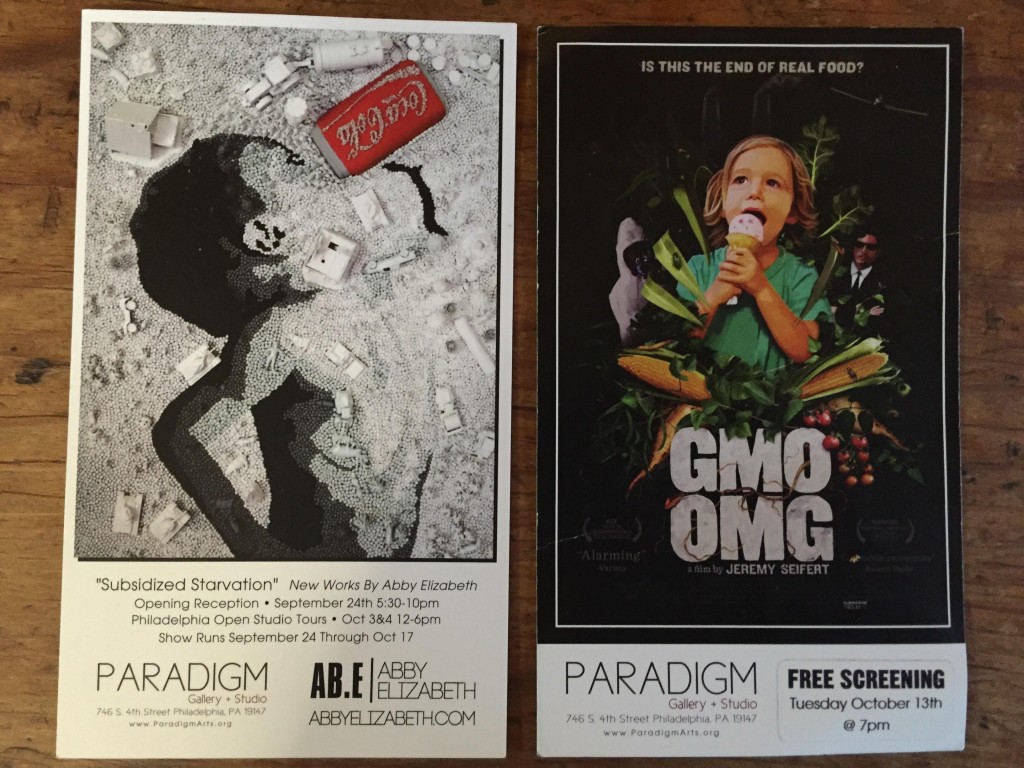 Wow(!), an art exhibit entitled "Subsidized Starvation" about the industrialization of the food supply that features a screening of GMO, OMG!?! Needless to say we were INTRIGUED and added the art opening to our schedule. Abby Elizabeth, the artist, hadn't told us that her work was created by gluing thousands of individual grains of rice, wheat, barley, and corn kernels as well as pennies (see if you can spot them) and children's toys onto reclaimed pallet boards to create images that tell a tale of America's food story from the Dust Bowl era to today's Biotech takeover of the food supply. Here are two of my favorites:
The show, at Paradigm Gallery, runs through
October 17
, but if you go this weekend (
October 3&4
) you will have the chance to meet Abby who will be at the gallery as part of the Philadelphia Open Studio Tours. And don't forget the free screening of GMO, OMG on
Tuesday October 13
@
7pm
.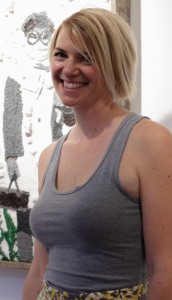 Abby currently lives and works in New Jersey where she and her husband recently bought 2 acres of land with plans of starting a small-scale permaculture food forest. And now we love her even more!
"How we get food has a direct impact on the viability of our planet and what we eat dictates the market forces in play. These works mark my exploration into our convenient yet complicated and pernicious food system." ~ Abby Elizabeth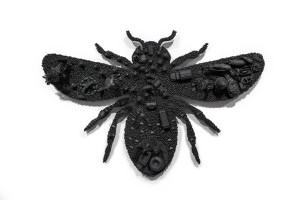 As you can see, even though we are fighting to transform the cunning foe of an unfair and unsustainable agricultural system–a tall order to say the least, we certainly encounter truly awesome people along the way. And it is SO encouraging to know that there are wildly creative people like Abby Elizabeth out there educating the world and striving to create a better future, straight from the heart & through their art. So, BEE good to yourself and get to this exhibit!
Paradigm Gallery + Studio: 746 S. 4th Street, Philadelphia, PA
Philadelphia Open Studio Tours:
October 3 & 4
,
12-6pm
Free movie: GMO, OMG – Sam Bernhardt of Food & Water Watch –
10/13/15
@
7pm
Exhibition hours: Tues, Thurs & Sat
12-6pm –
or by appointment:  
(267) 266-0073
Instagram:  @AB3Elizabeth  @ParadigmGS
#AbbyElizabeth #ParadigmGallery #SubsidizedStarvation #PhiladelphiaOpenStudioTours #GMO,OMG #GMOFreeNJ #StopDARKAct
Barbara